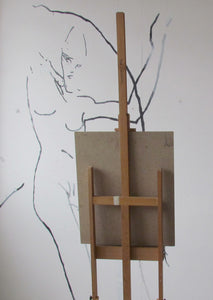 5 Tekenlessen naar naaktmodel in centrum van Arnhem.
Tijd: Zaterdag's van 11.00 tot 13.00 uur.
Adres:

 

Beekstraat 98 - 6811 DZ Arnhem.
De 5 lessen vinden plaats in de 5 opeenvolgende weken vanaf de startdatum. Afwijken of verzetten van lessen kan in overleg.
Aantal deelnemers per les: 5 

Privéles en eenmalige les voor kleine groepen mogelijk in overleg.
Over de lessen:
Naaktmodel tekenlessen vanuit mijn atelier.
Gebaseerd op de lessen die ikzelf aan The Art Students League in NYC gevolgd heb, doceer ik sinds 2014 modeltekenen.
Geboeid door beweging en 'leren zien' vormt modeltekenen voor mij een waardevolle en eindeloos inspirerende manier om tekenen te bestuderen.
Graag deel ik dit met hen die zin hebben in écht kijken, en het traditionele tekenen.

Aan de hand van een toegankelijke - en tegelijkertijd uitdagende lesmethode ligt de nadruk op vertaling van het menselijk lichaam in lijn.
Na jarenlang gewoond en gewerkt te hebben in Amsterdam en vervolgens in Engeland, keerde ik in 2019 met mijn gezin terug naar Arnhem waar ik in 1996 mijn opleiding modevormgeving aan ArtEZ afrondde.

Werkzaam als freelance mode illustrator voor o.a Elle en SHOWstudio doceer ik nu wekelijks mode illustratie aan Akademie Vogue in Amsterdam en ben regelmatig gastdocent i.o.v. ArtEZ.

Echt kijken- niets zelf invullen- jezelf onderwerpen aan het model- en groeperen en systematisch opzetten van een figuur komen aan bod.
Ook het stellen van prioriteiten wordt behandeld.
Hoe benader je bijvoorbeeld een twintig minuten pose en hoe een van één minuut ?
Zonder haast een figuur opzetten in één minuut is mogelijk, mits je prioriteiten stelt.
Het maken van een mooie tekening doet er misschien wel het minst toe.
De lessen zijn voor alle niveaus te volgen.
De ruimte is licht maar in grootte beperkt, Ik werk daarom met maximaal 5 deelnemers per les die ik individueel begeleid.
Vragen beantwoord ik graag via  CONNECT.
Petra